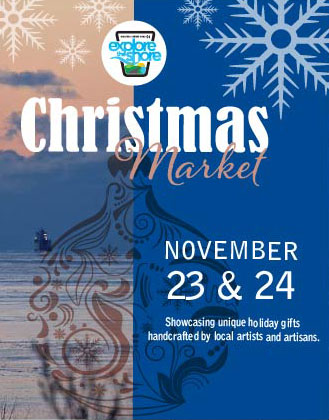 Christmas Market
November 23 & 24, 2019
Explore the Shore this holiday season at our Christmas Market!
Stock up on local goodies for loved ones or treat yourself to artisan and one of a kind gifts, handcrafted from right here on the Shore.
Featured Businesses
Red Lantern Coffee
Quick"s Wicks Soy Candles/Melts
The Fruit Wagon
Sweetlegs with Cori
Do Terra with Jenny
Wreaths & Florals by Janice
Everyday Pretties by Lesley
Drexler Diving
The Glass Garage
Epicure with Kathy
Mrs. Santa"s Helper (Baked Goods)
2 Chicks Glass Studio
Oxley Farmacy
Designs by Debbie
Anderdon Bee Co.
Blue Front Magnetics
Harrow True Light Books
Paint Escape
John R. Park Homestead
Oxley Beach Golf Course, repurposed vintage boxes
Country Rose Preserves
LRRR Designs
Canada Heals Haiti
The Basket Lady-handwoven
Christ Church Homemade Cabbage Rolls
Harrow United Church Homemade Apple Crisp
ThirtyOne Gifts
The Town Of Essex
Horse & Carraige Rides with Donations to Foodbank. Saturday only, 12.30-2.30 pm. Weather permitting.
November 24, 2018
First Christmas Market

Explore the Shore is excited to host the 1st Christmas Market in Colchester, just in time for the Christmas shopping season, and to complement the EPIC wineries Holiday Open House weekend. The event will feature 6 vendors, both from Explore the Shore participants as well as some of talented vendors from the local community.  The Market will be hosted on Saturday, November 24, 2018 from 10 a.m. to 3 p.m., at the Colchester Community Centre (100 Jackson Street) just south of County Road 50.
The event will feature a number of local vendors, including:
Sweetlegs Harrow with Heidi – Proud to bring a variety of wicked awesome leggings for everyone!
Wreaths & Florals by Janice – Beautiful arrangments for the Christmas Season & much more.
Epicure with Brenda – Spices & more for your Home & what great gifts!
Mrs. Santa's Helper by Linda – Very Delicious Treats (leave some for Santa, remember)
Wood N Needle by Irene & Vincent – a very talented Couple-wooden crafts, sewing & much more.
The Fruit Wagon – with Leslie bringing their locally produced apple cider vinegar in Original, Raspberry or Herb-infused flavours
Harrow Twilight Authors -Jane & Esther are very gifted, with wonderful books for the young & not-so-young.
The Garden Gallery – with Ann Ducharme – Her artistic flair is amazing!
Crochet by Sherry – she really knows how to use a Crochet Needle, so many items to choose from.
Quick's Wicks – Carol brings her 100% Soy Candles & Melts, Christmas scents & much more.
Drexler Diving Systems – Mike has the perfect location as he offers diving instruction, marine products & diving equipment.
doTerra with Jenny – A very knowledgeable gal to help you make the right choices.
Red Lantern Coffee – Craig will be pouring gourmet flavours of fresh roasted coffees.
J. R. Park Homestead – Kris is on the road bringing the Homestead pioneer-era wares to our Market.
Designs by Debby – a girl who likes challenges, taking orders for airplane cockpit curtains, kayak covers, makes ponchos, lace designs, Christmas ornaments & more
Cary's Cutting Boards – for all your handmade cutting board needs!
The market is located in the Colchester Community Room, overlooking beautiful Colchester Harbour.  There is ample parking at the top of the hill, and an accessible ramp leading to the front entrance to the room on the lakeside.  Washrooms are also accessible, and the beach and playground are nearby for all ages to enjoy! This event is presented in partnership with the Town of Essex, which rents the newly-renovated Community Room for many activities.
Explore the Shore is a small, unified group of businesses in our community, working together to encourage guests and increase tourism on and around County Road 50. The group is currently planning for the 10th Annual weekend event on July 27 & 28, 2019, and hope shoppers will enjoy this Christmas event and return to celebrate all that County Road 50 has to offer in the summertime.
For more information contact event organizer, Carol Quick of Quick's Wicks in Colchester at 519-738-2895 or quickswicks@gmail.com.
"County Road 50 is the perfect destination for shoppers and this event is a one-stop shop for those looking to buy local. We'll have a wide range of locally-produced goods that will fit under any tree or stuff any stocking."