Please enter the Page ID of the Facebook feed you'd like to display. You can do this in either the Custom Facebook Feed plugin settings or in the shortcode itself. For example, [custom-facebook-feed id=YOUR_PAGE_ID_HERE].
Calling all Solo Explorers!
Showcasing over 30 businesses in: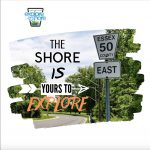 Local Food
Wine
Farms
Gifts
Arts & History
Beaches & Nature
Sailing & Scuba
Bicycling
Golf & more!
Check out the Explore the Shore 2019 passport